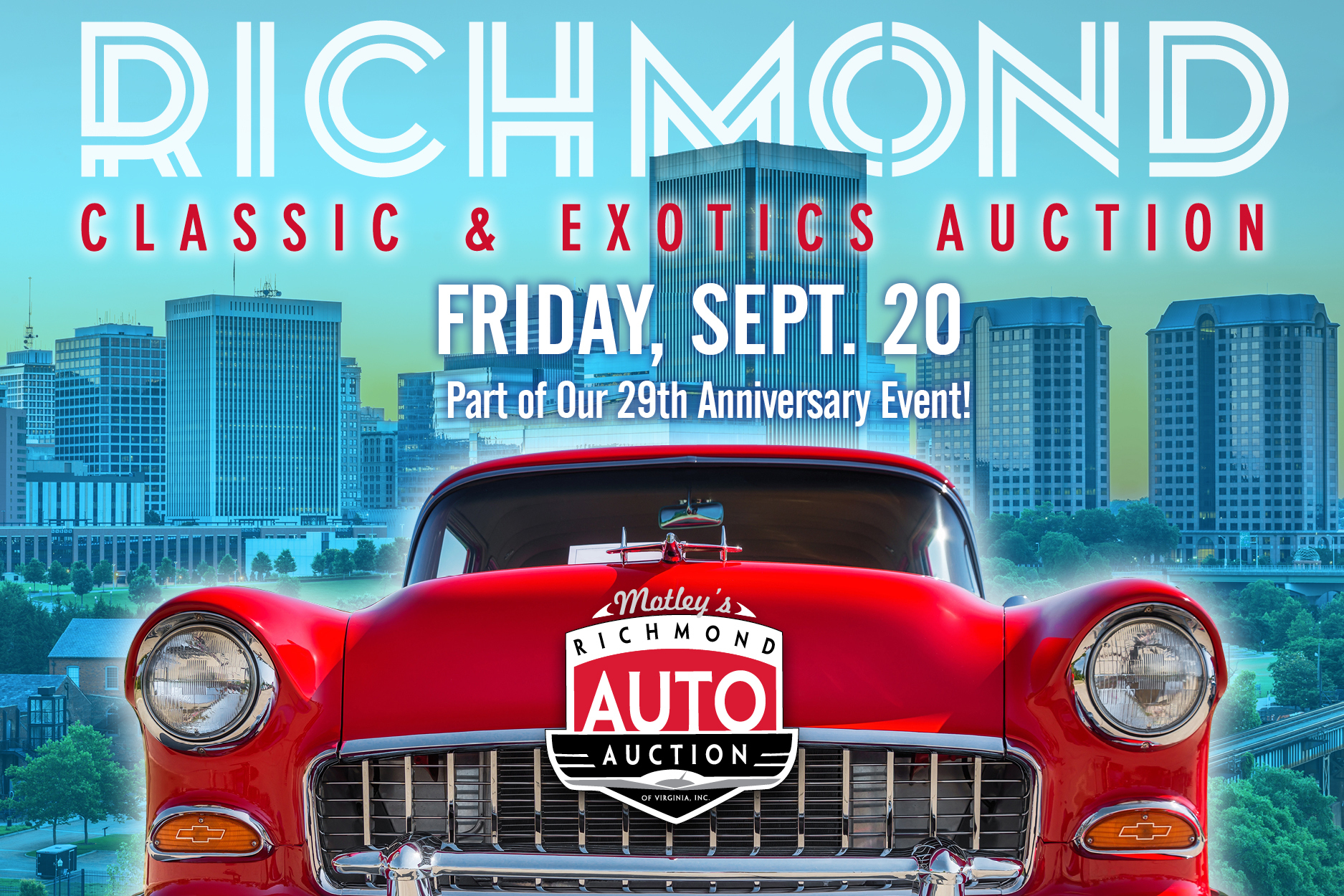 29TH ANNIVERSARY SALE
FRIDAY, SEPT. 20 AT 8:30 AM
60+ classic & exotic vehicles expected
over 700 vehicles total for the day!
Preview the vehicles the day before, Thursday 9/19 from 12pm to 5pm.
Inventory List Coming Soon.
Now Accepting Consignments!
Download the Vehicle Consignment Form
Can't make it to the auction on sale day? RAA offers live online bidding at www.edgepipeline.com.
All bidders are encouraged to register ahead of time.
To register, all licensed dealers should contact:
Scott Johnson | 804-645-6362| sjohnson@richmondaa.com
Diane Smith | 757-289-7544 | dsmith@richmondaa.com
Ron Fox | 804-801-8498 | rfox@richmondaa.com
All public bidders may click here to register, or contact RAA directly at 804-232-7355.
Richmond Auto Auction is conveniently located off Interstate 95, roughly 5 minutes south of downtown Richmond and Interstate 64. Nearby hotel options include:
Previously Sold Vehicles
| | | |
| --- | --- | --- |
| 1963 Chevrolet Corvette | 1969 Shelby Mustang GT | 1940 Ford Coupe |
| 1954 Mercury Monterey | 1971 Chevrolet Nova | 1994 Ferrari 348 Spider |
| 1964 Ford Thunderbird | 1970 Volkswagen Beetle | 1939 Chevrolet Coupe |
| 1981 DeLorean DMC-12 | 1929 Bugatti Grand Prix (replica) | 1952 Studebaker Commander |
| 1931 Ford Model A | 1934 Ford Custom | 1936 Ford Pickup |
| 1955 Ford Crown Victoria | 1956 Chevrolet Bel Air | 1957 Ford Thunderbird |
| 1960 Austin Healy 3000 | 1961 Chevrolet Corvette | 2011 Maserati Gran Turismo |
| 1968 Ford Torino GT | 1972 Buick GS | 1972 Chevrolet Chevelle |